The Retail Tech 100 is CB Insights' annual ranking of the 100 most promising B2B retail tech companies in the world. This year's winning companies include vendors working on hyper-personalized shopping experiences, blockchain-powered commerce, autonomous delivery, virtual shopping, and more.
CB Insights has unveiled the second annual Retail Tech 100 — a list of the top private companies using technology to reshape the shopping experience and make retail operations move faster and sell more. 
The 2022 Retail Tech 100 cohort has raised approximately $25.4B in equity funding across 373 deals since 2017. The list includes startups at different investment stages of development, from early-stage companies to well-funded unicorns.
The companies were selected by CB Insights' Intelligence Unit from a pool of over 7,000 companies, including applicants and nominees.
They were chosen based on several factors, including data submitted by the companies, company business models and momentum in the market, and Mosaic scores, CB Insights' proprietary algorithm that measures the overall health and growth potential of private companies.
Clients can access the entire Retail Tech 100 list and interactive Collection here. (If you don't have a CB Insights login, create one here.)
Want to be considered for future rankings? Fill out this initial application form (it'll take no more than a few minutes). If selected, you'll be asked to complete our Analyst Briefing Survey so that our analysts can better understand your products, customers, and market traction.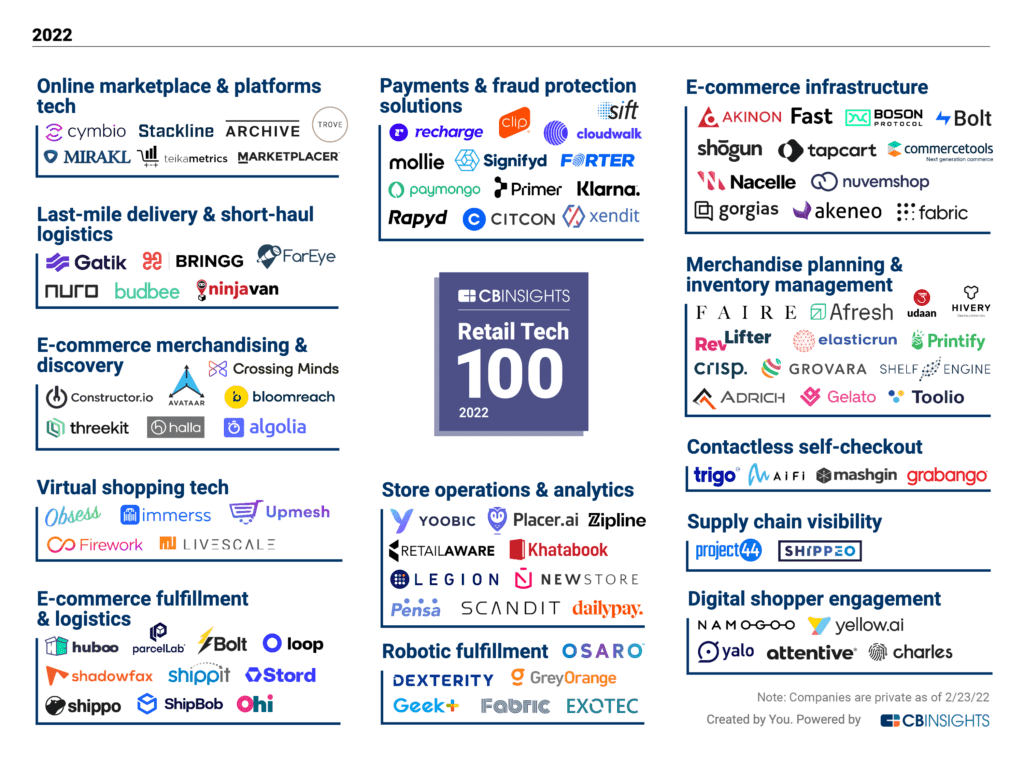 The market map above categorizes the Retail Tech 100 companies based on core area of focus. Categories are not mutually exclusive. Companies are private as of 2/23/22.
Table of contents
Top retail tech companies 2022: Retail Tech 100 investment trends

Category highlights

Categories & most well-funded startups

The Retail Tech 100 Class of 2020: Where are they now?
TOP RETAIL TECH COMPANIES 2022: RETAIL TECH 100 INVESTMENT TRENDS
Funding trends:

In 2021, these 100 private companies raised

$13.1B in equity funding across 109 deals

, triple the amount raised in 2020. So far in 2022, they have raised

$2.3B across 15 deals (as of 3/8/22)

.

Future market leaders:

Nearly two-thirds of the companies on the list are early- or mid-stage companies. There are 20 early-stage companies (seed/angel and Series A) and 43 mid-stage firms (Series B or Series C) in this year's cohort. The early-stage grouping includes

Immerss

and

Obsess

, which power virtual shopping experiences via video chat and virtual stores, as well as

Halla

and

Constructor.io

, which both make tech focused on hyper-personalizing online shopping.

Global reach:

40% of the 2022 Retail Tech 100 is based outside the US. After the US, the UK and India follow with 6 companies each. Overall, this year's winners span 19 countries, including Singapore, Australia, China, and the Netherlands. Companies from emerging markets where informal retail is still dominant — like India, Indonesia, the Philippines, and Mexico — are notable additions to this year's list, as their inclusion indicates that tech companies in locations like these are making progress toward digitizing retail operations.

Unicorns: Thirty-six of the 100 companies (36%) are valued at or above $1B as of their latest funding rounds. Among the most recently crowned are Scandit, which makes mobile computer vision technology for use across store operations; Fabric, which maintains small robotic fulfillment centers that are utilized by Walmart and Instacart; and Singapore-based Ninja Van, a provider of last-mile delivery services for companies in Southeast Asia.
Top investors:

Salesforce Ventures

is the most active investor in this year's Retail Tech 100, having made investments in 10 companies across 19 deals since 2017. Tiger Global Management and Insight Partners, which have both invested in 9 companies on the list, are tied for second. Among Salesforce's investments is a Series B round for

ThreeKit

, which makes 3D content for e-commerce sites, in November 2021.

Most well-funded companies: The biggest rounds of the year went to BNPL giant Klarna, which closed a $1B growth equity deal in March 2021, and online checkout player Mollie, which raised $800M in Series C funding in June 2021. Klarna is also the most well-funded company among the Retail Tech 100, having raised over $3B in funding. Autonomous delivery company Nuro follows with $2.1B in total funding.
Clients can access all 100 companies on the CB Insights platform here. 
GET the list of 2022 Retail tech 100 companies
CATEGORY HIGHLIGHTS
The biggest categories in this year's cohort point to the tech markets and areas of focus that will continue to gain momentum in 2022. 
Retail Tech 100 (2022)
Track the 100 most promising retail tech innovators to watch in 2022 and beyond. Look for Retail Tech 100 (2022) in the Collections tab.
Track The 2022 Retail Tech 100 Winners
CATEGORIES AND MOST WELL-FUNDED STARTUPs
| Category | Company |
| --- | --- |
| Contactless self-checkout | Trigo |
| Digital shopper engagement | Attentive |
| E-commerce infrastructure | Bolt |
| E-commerce merchandising & discovery | BloomReach |
| E-commerce fulfillment & logistics | ShipBob |
| Last-mile delivery & short-haul logistics | Nuro |
| Merchandise planning & inventory management | Udaan |
| Online marketplace & platforms tech | Mirakl |
| Payments & fraud protection solutions | Klarna |
| Robotic fulfillment | Exotec |
| Store operations & analytics | dailypay |
| Supply chain visibility | project44 |
| Virtual shopping tech | Firework |
THE RETAIL TECH 100 CLASS OF 2020: WHERE ARE THEY NOW?
The 2020 Retail Tech 100 winners have gone on to do big things since December 2020:
6 winners have gone public (5 via IPO and 1 via SPAC)
14 members of the list were acquired (including one winner that bought another)
19 more have become unicorns (bringing the total Retail Tech 100 2020 unicorn herd to 38)
59 raised additional equity funding, totaling $17.1B across 91 deals
36 winners raised 48 mega-rounds (deals worth $100M+), generating a total of $16.1B.
If you want to learn more about the Retail Tech 100 Class of 2020, check out the full list of previous winners.
If you aren't already a client, sign up for a free trial to learn more about our platform.